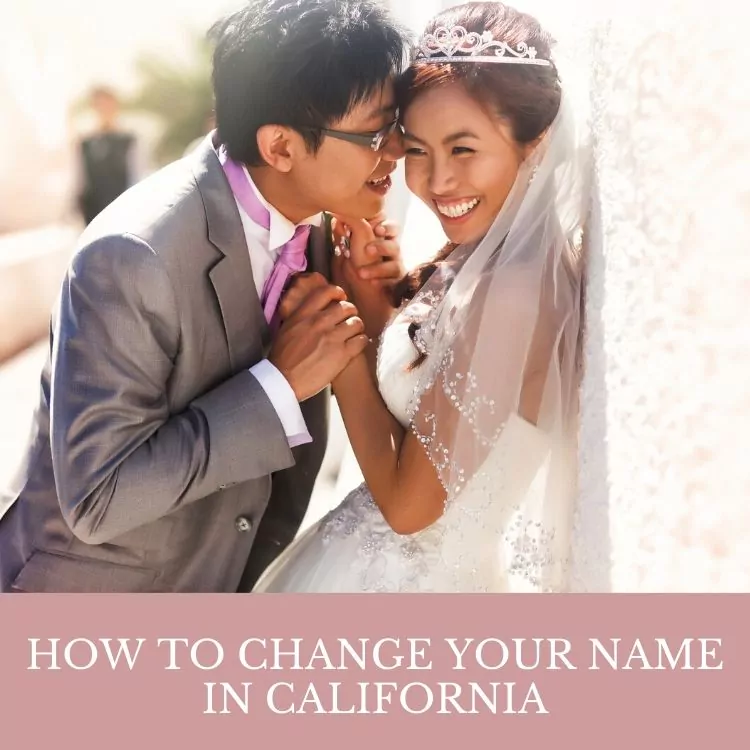 When embarking on the journey of changing your name after marriage in California, it is essential to be aware of the series of federal and state-level forms and notifications that need to be undertaken. This comprehensive 7-step process will diligently guide you through all the necessary procedures. We will assist you in adopting your new married name. It's important to note that your marriage certificate will play a role as the key document required throughout this process. Also, contrary to some assumptions, there is no name change application form for California residence.
Before you begin this name change process you will need to obtain multiple certified copies of your marriage certificate. These copies serve as crucial documentation when updating various records and identifications with your new name. These documents are provided by the county where the marriage took place.
How to Change Your Last Name in California After Getting Married
Step 1. File for your Social Security Card with your Married Name

Now that you're ready to change your name, the first step is to complete the SS-5 form, the Social Security Administration's official application for a new Social Security card. You can obtain this form from their website or visit a local Social Security office to get a physical copy.
Make sure to fill out the form accurately, providing all the necessary information. You'll need to include your personal details, such as your current name, date of birth, and Social Security number. Indicate that you're applying for a name change due to marriage and provide your new married name as it appears on your certified marriage certificate.
Once you've completed the form, the next step is to submit it along with the required documents. You'll need to show or include your certified marriage certificate, which serves as evidence of your recent marriage and validates the name change. Additionally, you must provide proof of your identity, which can be either your U.S. passport or your state driver's license or identification card.
After ensuring all the documents are in order, you have two options for filing the form: you can either do it in person by visiting your local Social Security office, or you can opt to mail the completed SS-5 form and the supporting documents to the Social Security Administration.
Once your application is processed, you can expect to receive your new Social Security card in approximately two weeks. It's essential to verify all the information on the card for accuracy once you receive it.
Remember, obtaining your updated Social Security card is a vital step in the name change process. It will serve as official documentation of your new name for various legal and administrative purposes. Following these steps diligently will ensure a seamless transition to your new married name, allowing you to embrace your new identity with confidence and ease.
Step 2: Notify the IRS of Your Married Name Change
The IRS Form 8822 serves as a formal notification to the Internal Revenue Service about your name change due to marriage. While not filing the form won't necessarily lead to immediate consequences, it's prudent to consider the possible scenarios that may arise if the IRS remains unaware of your name change. Failing to inform the IRS about your married name could lead to complications and delays in processing your tax returns.
By taking a few minutes to fill out the IRS Form 8822 and providing accurate information about your name change, you can help prevent any hitches that might otherwise arise during tax season. This proactive approach ensures that the IRS is well-informed about your updated identity, reducing the risk of any unnecessary delays or inquiries.
Moreover, notifying the IRS through Form 8822 can be especially valuable if you've had any tax-related issues in the past or anticipate complex financial matters in the future. Keeping your records up-to-date with the IRS will contribute to the smooth handling of your tax affairs. This should provide you with added peace of mind.
Given its ease of completion and the potential advantages it offers, the IRS Form 8822 can be seen as a practical step to safeguard yourself from any inadvertent issues that may occur with your tax returns. It presents an opportunity to proactively manage your tax-related matters and ensure a seamless transition to your new married name without any undue stress or complications.
Step 3: File for Your California Driver's License under your new Married Name
In the process of changing your name after marriage in California, there is one notable exception where filing the name-change form in person is mandated. That is the California Department of Motor Vehicles (DMV). The reason behind this requirement is to ensure that they can capture a new photograph of you, corresponding to your newly acquired name. This helps maintain the accuracy and security of your driver's license, reflecting your current identity.
To successfully initiate this name-change process at the California DMV, it's essential to come prepared with the necessary documentation. Firstly, make sure you have a completed DL-44 form, which is the official application for a driver's license or identification card. You can obtain this form from the DMV's website or from their physical locations.
In addition to the DL-44 form, bring along your current driver's license, which serves as crucial identification and proof of your prior name. As part of the application process, you'll need to verify your residence in California. Accepted documents for this purpose include utility bills or other official correspondence showing your current address.
Note that there is a $33 fee to process the name change on your driver's license. Be prepared to make this payment during your visit to the DMV.
It's important to note that there is a waiting period after filing your name change with the Social Security Administration. You must allow 24 hours to pass before proceeding with the name-change process at the DMV. If you mailed your name-change forms to the Social Security Administration, it is recommended to wait at least a week before visiting the DMV. This ensures that the required information has been updated in their systems.
By adhering to these guidelines and fulfilling the necessary requirements, you can confidently visit the California DMV and complete the name-change process with efficiency and ease. With your updated driver's license and official identification, you can proudly embrace your new married name on all legal and administrative fronts.
Step 4: File for Your New Passport to Change to your Married Name
To apply for your new passport with your changed name, the US State Department has three distinct application forms. The different forms meet the requirements in different situations. This is based on whether you currently have a passport and the duration you've held it. Choose the form that best fits your circumstances, and then proceed with the application process.
For those individuals who already possess a passport, the application can be submitted by mail. However, if it's your first time applying for a passport, you'll need to apply in person at an authorized passport acceptance facility. Regardless of which form are to be used, certain essential documents are required for a successful application.
Be sure to include two recent 2×2 passport-sized photos along with your application. These photos must meet the specific passport photo requirements to ensure acceptance. Moreover, a certified copy of your marriage certificate is a crucial piece of documentation. This will serve as legal evidence of your name change due to marriage.
The MissNowMrs Name Change mobile app will allow you to take your picture on your phone, and we will mail you your 2×2 passport photo along with your complete name change kit.
It's important to note that the fee for your new passport will depend on the specific circumstances of your application. If your current passport has been in your possession for less than 12 months, the U.S. State Department offers a special benefit for newlyweds. You can apply for your new passport for free during this period. Consider it a thoughtful wedding gift from the government.
Once you've gathered all the necessary materials and filled out the appropriate application form, submit it as directed, whether by mail or in person for first-time applicants. The State Department will process your application, and upon approval, you'll receive your brand-new passport reflecting your cherished married name.
Step 5: Notify Your Creditors of Your Married Name Change
Indeed, now that you have successfully completed the federal steps and obtained your updated identification. Now it's time to ensure that your new married name is reflected across all aspects of your life. To achieve this, it's essential to proactively notify various entities and service providers about your name change.
A personalized and systematic approach is key when informing your banks, credit card companies, insurance providers, mortgage lenders, and loan providers of your new name. Crafting individual letters is a thoughtful way to communicate the change. This will allow you to include necessary documentation, such as a copy of your certified marriage certificate. These letters should contain pertinent details. Include your account numbers, old name, new name, and contact information, to facilitate a seamless update on their records.
In addition to written correspondence, making phone calls to these institutions can expedite the process. This will also provide an opportunity to confirm the reception of your name change request. You will often be guided through the steps necessary for updating your information by the customer service representatives. This can ensure that the transition is conducted accurately and efficiently.
A proactive approach ensures that your new name is reflected consistently across all your accounts. While the process may require some effort and patience, it will ultimately prevent any potential confusions or complications in the future.
Embrace this opportunity to establish your new identity with confidence, knowing that you've taken the necessary steps to keep all aspects of your life in harmony with your cherished married name. The thoughtful effort you invest in these notifications will undoubtedly contribute to a seamless and rewarding transition into this exciting new chapter of your life.
Step 6: Notify Vendors and Professional Organizations of your New Married Name
Undoubtedly, informing everyone, including vendors and professional organizations, about your name change is an essential step. This will ensure a smooth transition into your new married life. A comprehensive list often helps in managing this process. Include all the vendors you have affiliations with, including utility companies, service providers, and other entities you interact with.
Once your list is complete, drafting polite and concise letters or emails to each vendor becomes a practical approach. These communications should clearly state the purpose of the message—your recent name change—and provide the necessary details. Include your old name, new married name, and relevant account numbers or identification information.
For vendors that you interact with primarily online or via email communication, sending an email can be a convenient option. On the other hand, for vendors who prefer traditional correspondence, mailing a letter serves the purpose effectively.
As for professional organizations, it is essential to review their specific guidelines and protocols for name change notifications. In some situations there may be documentation or specific forms that will need to be completed, while other times there is a more straightforward process in place. Be sure to adhere to their specific requirements to ensure a successful update of your information with them.
The name change notification process may take some time, as each vendor or organization might have its own processing timeframes. Starting this process promptly after you've legally changed your name ensures that you stay ahead of any potential administrative challenges.
While the task of notifying multiple entities may seem daunting, approaching it with a well-organized list and can alleviate stress. Embrace this as an opportunity to embrace your new married name fully, as you confidently navigate through these notifications, paving the way for a harmonious and unified identity in all aspects of your personal and professional life.
Step 7: Work Smarter NOT Harder on Your California Name Change
Instead of locating, completing, and figuring out how to file all of your name change forms and notification letters, use the MissNowMrs app or easy online name change service. We'll take you from Miss to Mrs. in a matter of minutes, instead of 13 hours! We are here if you have any questions about how to change your name in California after marriage.
The instructions are valid for married name change throughout California. This includes Los Angeles, San Diego, San Jose, San Francisco, Fresno, Sacramento, Long Beach, Oakland, Bakersfield, and Anaheim.
In order to change your name in California after marriage you will need a certified copy of your marriage certificate. The county where the marriage took place can provide these documents.